Hero M.D. with a Powerful Motivational Speech
Hero M.D.
Newsweek calls him "War's Most Fearless Doctor," 
yet Dr. Jadick says, "I am NO 'hero.' 
I only did my job to the best of my ability."
Get Dr. Jadick to give a motivational speech at your next event!
Keynote Speaker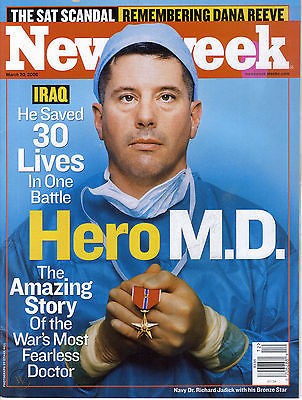 The day
That Changed His Life…
Dr. Richard Jadick was 38 years old and a full-time physician serving on the general's staff. He was starting a family, and was settled in a comfortable routine, when one day at lunch changed everything.
He was in the Division Surgeon's office. They were frantically in search of a doctor to join the First Battalion, Eight Marine regime as part of the U.S. invasion into Fallujah. Even though he had never seen combat before, he spent several years as a battalion surgeon with the marines. Dr. Jadick knew he was the man for the job.
"I'll go," he volunteered.
Invite Dr. Jadick to give a motivational speech that will inspire your audience.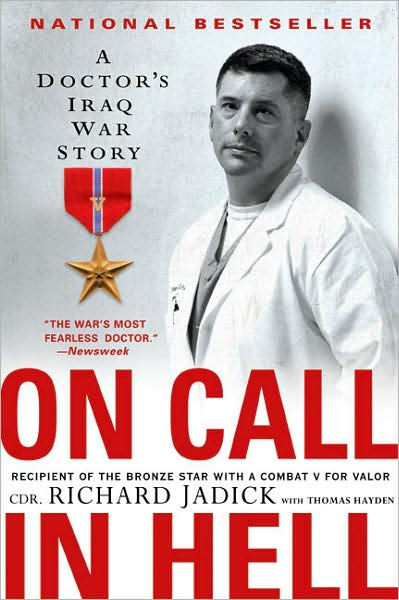 courage
Was Telling His Wife…
He knew he wanted to go. He had to go. But how could he tell his wife, who was 8 ½ months pregnant with their first daughter, Mackenzie, that he was leaving for war? In two weeks! Melissa was not happy at first. Some words were exchanged. But then she calmed down and committed to stand by him, in the same way that he had committed to his country.
What was even harder than telling his wife? Saying goodbye. Leaving his beautiful newborn daughter when she was only five days old. Still, he knew he would be part of a bigger family — a greater responsibility — to bring men home. He was not just a surgeon — he was a marine.
Dr. Richard Jadick will inspire your audience with his motivational speech.
Putting himself in the line of fire…
Normally, doctors would remain safe behind enemy lines, two-thirds of a mile away from the battle scene. Often soldiers are lifted by helicopter and dropped off to an awaiting doctor. But Dr. Jadick knew Fallujah was not a safe place for a helicopter. There was nowhere to land it. And it could be easily shot down. Even humvees were a little too wide for the old streets. 
Most of his patients wouldn't have a "Golden Hour" to be treated successfully. With their injuries and blood loss, they would have precious minutes.
He needed to come up with another solution. He needed to go into combat.
Doing the unheard of…
A physician had never been placed on the battlefield before. It was too dangerous. But it was even more dangerous not to. Moving closer to the battlefield was controversial.
"Are you going to carry an M-16 rifle?" his executive officer asked.
"No," he said. "That would be crazy! I'd probably shoot myself accidentally! I'll just go in and treat the patients. You guys take care of security."
He requested a mobile assault platoon. He would never be more than five minutes away from the injured.
The first call…
The next morning, a sniper with a terrible chest wound needed evacuation. Though he got the title of "War's Most Fearless Doctor," Dr. Jadick recalls the paralyzing fear of that first moment.
"I'll never forget how scared I was as when I looked out of our truck to what combat really is," Dr. Jadick says. "Honestly I've never been so scared in my entire life."
Dr. Jadick admits he was so afraid he wanted to cry, yet he took that first step. He got out of the truck.
Leaving Lonny...
Sergeant Lonny Wells had a huge wound. Too large to stop the bleeding. Dr. Jadick looked around. There were six other men nearby who needed help. Men he could save. 
He looked in Lonny's eyes. He was only 29 years old and a good friend. Dr. Jadick often joked with him about being a Cowboys fan because he grew up in the Pittsburgh suburbs. Lonny planned to move to Texas when his 10 years of service had ended. 
But he wouldn't make it that far. He wouldn't make it out of Fallujah.
Leaving Lonny was one of the hardest things Dr. Jadick had to do. "But I had to leave Lonny to die to help greater numbers to live."
Hear the difficult but inspirational stories in a motivational speech by the Hero M.D.
Get In Touch 
Contact Dr. Richard Jadick to be a motivational speaker at your next event. Please complete and submit the form below for a prompt response.
Dr. Richard Jadick
Piedmont Physicians 
775 Poplar Road, Suite 160
Newnan, GA 30265
(770) 400-4630